Diversity Forums
JumpStart Diversity Forums are intensive, challenging, supportive, and interactive. Make real-world connections that count.
JumpStart hosts separate undergraduate and graduate diversity forums that bring together selected students from top-tier programs.
JumpStart Diversity Forums include:
JumpStart MBA Financial Services and Consulting Diversity Forum
The Forum offers an intensive program that educates participants on both industries, introduces students to case studies, and provides endless networking for first-year MBA students prior to matriculation. The Forum takes place in the middle of July and grants access to incoming students attending top-tier MBA programs that fall. Since 2004, The Diversity Forum has hosted hundreds of women and minority candidates and generated countless job offers. Interested candidates may apply online now, become a member and click on the link below to start the process.
Click here
to apply.
---
JumpStart MBA Brand Management and Marketing Diversity Forum
The diversity forum will be a 2 1/2 day experience that educates incoming women and minority MBA students on brand and marketing careers. The multi-day session will give participants the opportunity to learn an interactive way via case studies, networking, and site visits. Students focus on careers in brand management or marketing will join corporate partners and JumpStart alumni at the diversity forum in late May. Attendees will gain transparency to the recruiting process and learn how to build a successful game plan. Interested candidates may apply online now, become a member and click on the link below to start the process.
Learn More
.
---
JumpStart UGrad Financial Services and Consulting Diversity Forum
The JumpStart UGrad Diversity Forum has emerged as the premier venue that matches high performing undergraduates with the best in class financial services and consulting firms. The non-threatening environment encourages the attendees to ask "real questions" on how to gain employment and addresses the professional benefits of launching a career within either industry. The annual event takes place in the middle of August. Interested candidates may apply online now, become a member and click on the link below to start the process.
Click here
to apply.
---
JumpStart Path to MBA (P2MBA)
The JumpStart P2MBA is a weekend immersion program to introduce and help prepare select working professionals for the process of applying to top business programs. The forum will take place in June 2016. Attendees will have several networking opportunities with both admissions representatives and future classmates while also receiving information to help prepare for the application process. Interested candidates may apply online now, become a member and click on the link below to start the process.
Click here
to apply.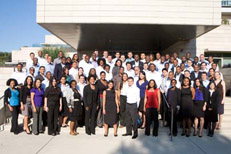 "JumpStart exceeded my every expectation. I came into the forum thinking I had everything figured out. I left far better prepared and armed with the knowledge of what I needed to do moving forward."
— Meka Asonye, HBS, Class of 2013
"JumpStart definitely lives up to its name. It has already jumpstarted my MBA experience. The insight I took away from the forum has given me such a stronger competitive advantage in the recruiting process, even before classes begin."
— Mariel Alacorn, Columbia, Class of 2012
Click here
to read more from the MBA Finance/Consulting Flyer.
"My 'aha!' moment, was learning that you have to continue to network and brand yourself even after you get the job. Until now, I had always thought about my long-term career in terms of 'once you get in there, you just do your work.'"
— Janee Wilson Key, Harvard Business School, Class of 2013
"My biggest takeaway was the opportunity to learn about companies I wasn't familiar with. For example, I didn't know that Merrill Lynch does private equity business."
— Rocio Cardenas, Ross School of Business, Class of 2013
Click here
to read more from the MBA Early Edge Article.
Participating in the JumpStart forum gave me a head start in the internship search process. The consulting forum allowed me to gain a solid understanding of consulting, solidified my decision to pursue this career path and helped me get an internship and full-time offer at one of the top 3 consulting firms. I am now considering a career in marketing and I am very excited that JumpStart has added the Brand Management and Marketing forum to the program. This forum should prove very valuable to students considering a careers in marketing.
— Pamela Velarde, Wharton MBA, prior employer was BCG, current employer is Mattel
"My JumpStart forum experience was truly invaluable. As a marketer, I am excited for them to launch the brand forum to cultivate relationships between students and firms committed to diversifying talent pool of Brand Managers and Marketers similar to how they have successfully gone about it in financial services and consulting. The environment and hands-on approach creates an intimate experience that prepares students for career success."
— Laurinda Rainey, Duke MBA, prior employer was AMEX, current employer is Walmart
Click here
to read more from the MBA Brand Management Flyer.
"As an undergraduate, choosing and pursing the right path within the competitive consulting and financial services industries can often seem overwhelming. The JumpStart UGrad Diversity Forum is a truly unique opportunity for students to connect with industry professionals and learn what it takes to launch a career in consulting or financial services. By the end of the three-day program, students are fully equipped with the tools necessary to successfully take on the recruiting process."
— Vivian Graves, University of Texas JP Morgan, Asset Management
"As corporate America seeks to recruit and develop diverse talent, the JumpStart program stands alone. It's hyper focused forum lays a much needed foundation for those who want exposure and direction. Personally, the JumpStart program has augmented my career trajectory and given me a unique competitive advantage in the full time recruiting process and a network of like-minded peers. For that, I am truly thankful."
— Kayin Barclay, Morehouse '2012 McKinsey, Analyst
Click here
to read more from the UGrad Flyer.
"One of the main reasons why I'm here is to get a better understanding of what career step I want to take and where I want to take it. I'm taking some business classes at school, but as a rising sophomore it's nice to get that head start in the beginning, because I'm now learning the basics of what these industries do. I'm learning exactly what each role does and how they do it, to see if I can see myself in that role. This forum has done a great job of helping me edit my list of what industries I would want to go into and what industries I don't want to pursue."
— D'Shai Hendricks, Sophomore, Stanford University
"The JumpStart UGrad Diversity Forum represented an invaluable resource during a time full of uncertainty. I attended the forum after an investment banking internship I had thoroughly enjoyed, but was wondering if I was missing out on other potential opportunities. While I verified [that] I wanted to go back full time to the job I had enjoyed, it gave me the peace of mind of having learned in-depth about other alternatives. I hope many more students get the opportunity to attend."
— Ernesto del Valle, Wharton Credit Suisse, Analyst
Click here
to read more from the UGrad Style Article.